Welcome to Crime Stoppers!
Have you ever wanted to text in a tip to our Merced Area Crime Stoppers program but wanted to make sure your tip was anonymous?
Well, you can and here's how… start your text narrative with the word MERCED followed by the tip information you want to provide, to this number: 274637.
That's it!!!! You'll receive a confirmation response with information on how to follow up. Crime Doesn't Pay- Crime Stoppers Does With Cash Rewards Up To $1,000!!!! Witnesses have remained anonymous when contacting Merced Area Crime Stoppers. If your tip leads to a arrest you will be eligible for a cash reward. You will be given a secret PIN number without questions and with that number you or anyone you send with the PIN number will be able to receive your cash reward without id or questions.
Join our team and let's stop crime in Merced County~ Merced Area Crime Stoppers Board Members.
SEND A TIP
| | |
| --- | --- |
| Phone Tips | |

1-855-725-2420
| | |
| --- | --- |
| SMS Text Tips | |

Text "MERCED"
plus your information to 274637 (crimes)
Joining Together to Make Our Communities Safer!
Merced Police Department
Los Banos Police Department
Atwater Police Department
Livingston Police Department
Gustine Police Department
Dos Palos Police Department
Merced County Sheriff Department
Merced County District Attorney
Merced Area Narcotics Task Force
Merced Area Gang Task Force
Merced County Probation Department
California Highway Patrol
University of California, Merced Police Department
Merced College
Department of Corrections-Parole
Department of Justice-Bureau of Narcotics Enforcement (BNE)
Drug Enforcement Administration-DEA
Federal Bureau of Prisons-Atwater
For those interested in becoming a member of the board of directors or attending a meeting, meetings are held quarterly on the second Wednesday of the month at the Merced County District Attorney's Office at 10;30 AM. You are welcome to attend.
Spotlight
*****
Katherine
Cunningham
Murdered Feb. 2018

Katherine was found deceased on Camano Island, Washington in late February. Her decapitated body was found on March 3, 2018, on the island near a bunker filled with weapons and ammunition. She is from the Merced area. Her vehicle was left abandoned in Yreka, CA along I-5.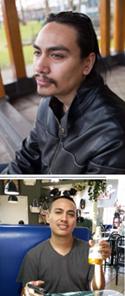 Suspected of the brutal slaying is JACOB GONZALES, AGE 34, formerly of the Los Banos area. A reward leading the arrest/or conviction is available through WA by calling their tip line at 360-679-9567 or email tips@co.island.cwa.us and a separate reward through the Merced Area CrimeStoppers.